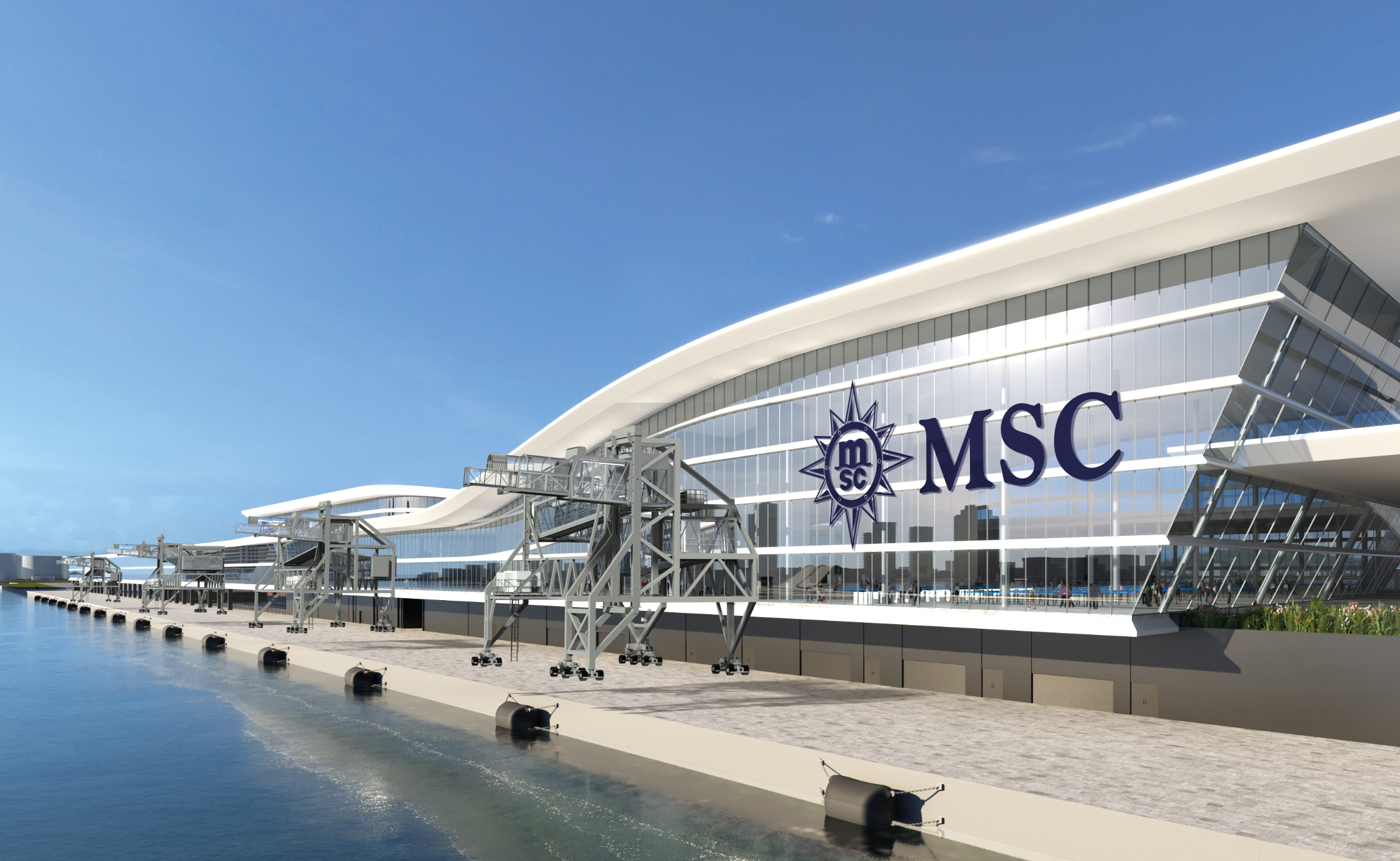 Fincantieri Infrastructure contracted ADELTE to design, manufacture and install four HYDRA Seaport Passenger Boarding Bridges (SPBBs) at MSC's Cruise Terminal in PortMiami
Barcelona, 27th March 2023 – ADELTE, a Spanish engineering group based in Barcelona and the world leading specialist in the design and manufacture of Seaport Passenger Boarding Bridges (SPBBs) for Cruise and Ferry Terminals, is contracted by Miami-based Fincantieri Infrastructure to design and manufacture four (4) HYDRA type Boarding Bridges and to install these bridges at the new and iconic MSC Cruise Terminal (Cruise Terminal AA/AAA), currently in construction in PortMiami, USA.
Fincantieri Infrastructure is constructing North America's largest and newest state-of-the-art cruise terminal facility according to a design by award-winning global architecture firm Arquitectonica. The four-story building with four embarkation decks and four SPBBs will be able to accommodate up to 36.000 passengers a day, and presents sufficient berthing space to serve three of MSC's latest generation cruise ships simultaneously. ADELTE will commission all four SPBBs in 2024.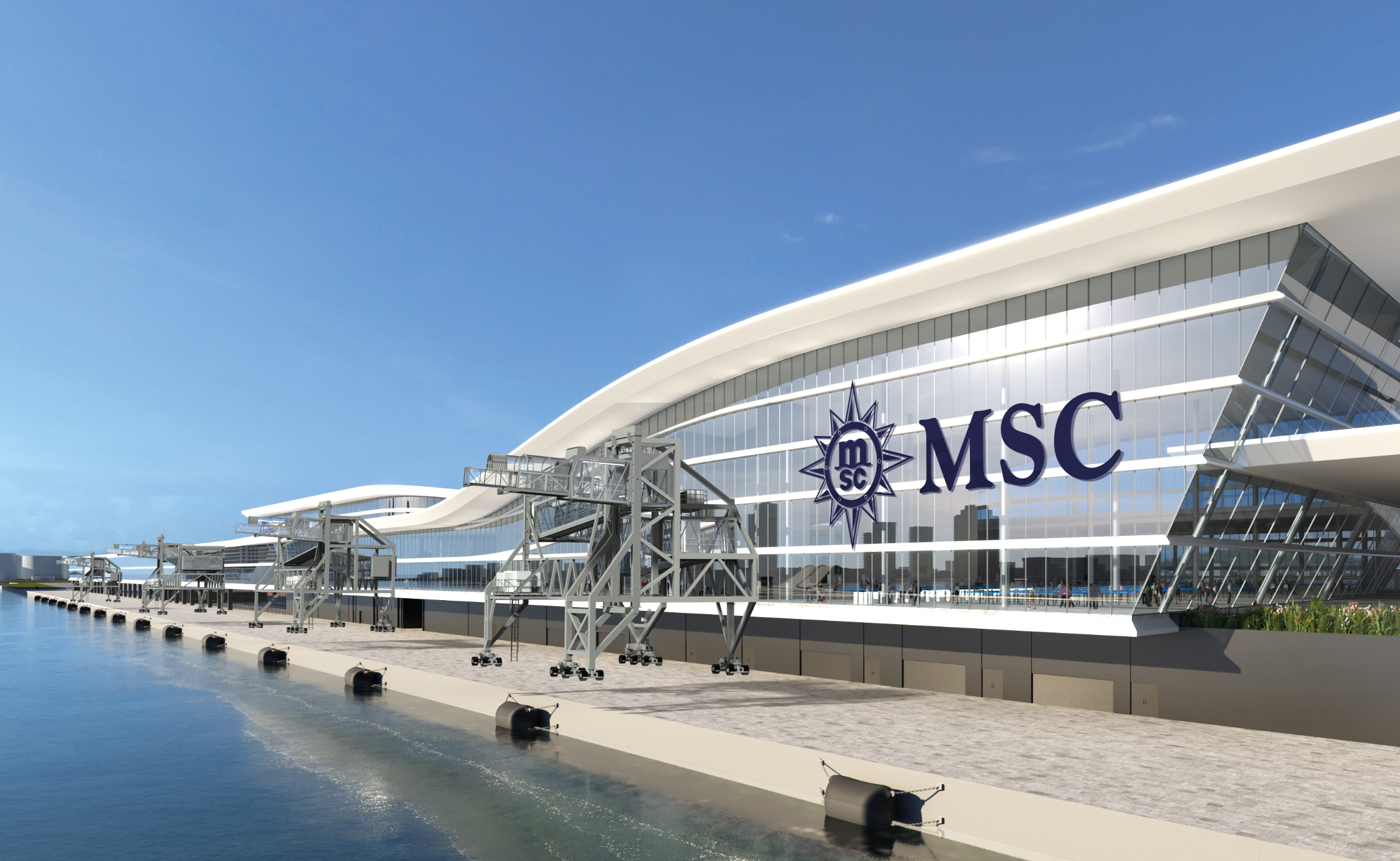 "We are very proud to be part of this state-of-the-art project. Being able to partner with MSC, Fincantieri Infrastructure and Arquitectonica and to provide our unique boarding bridge design and technology for an iconic new cruise terminal in PortMiami is the result of our everlasting drive for excellence" says Jordi Floreta, VP and B.U. Director at ADELTE.
The HYDRA type Boarding Bridges are designed at ADELTE's offices in Barcelona and manufactured at ADELTE's facilities in Monzón (Spain). Each steel-structured SPBB is composed of multiple glass walled tunnel sections, a docking cabin, a building connection module and lifting and translation systems. The docking cabin will be ADELTE's most technologically sophisticated, composed of three parts, which compensates all the movements of a cruise ship when it is docked. Electromechanical elevation systems in the columns allow the SPBB to reach a boarding height of 16 meters over sea level. The four SPBBs can move longitudinally along the quay, allowing the boarding from any door position of MSC's Cruise Terminal building. With embarkation, cruise guests will be able to enjoy full views of the cruise ship and the cruise terminal. Last but not least, the bridges will be designed and constructed to ease regular maintenance tasks.
When in 2024 these four SPBBs are commissioned at the MSC Cruise Terminal, ADELTE will have a total of twelve (12) SPBBs in operation in PortMiami (Cruise Terminals AA/AAA, B, C, D and F) and a total of thirty-three (33) units in operation at Cruise and Ferry Terminals in North America.