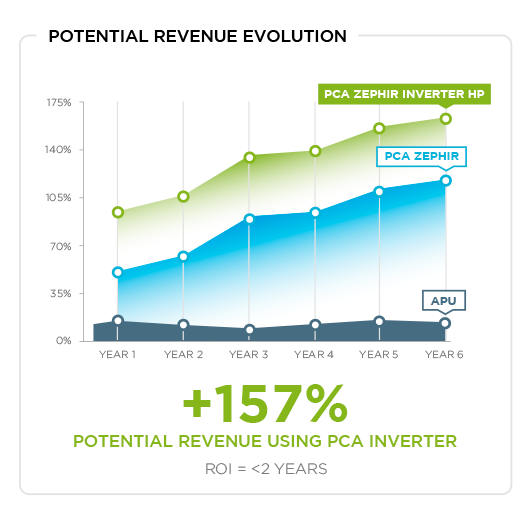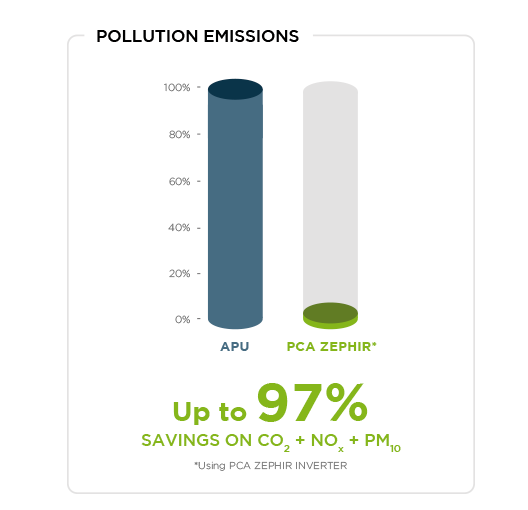 The above calculations are for illustration purpose only. ROI has been calculated under the online PCA simulator conditions that are described in the webpage.
The APU burn rates used are 100 kg/h for a NB and 250 kg/h for a WB. The Jet Fuel A1 cost is based on latest available data provided by IATA.
Emissions are calculated per ICAO Document 9889 Airport Air Quality Manual. The maximal admissible annual values of NOx and PM10 are 40µg/m³ per EU Directive 2008/50/EC.
The CO2 generated by the off-site production of electricity is 500 g / kWh average high value per EPTA (European Parliament Technology Assessment).
The PCA ZEPHIR Inverter HP incorporates the system Heat Pump for the supply of heating to the Aircraft. The heat pump system uses the refrigeration circuit of the equipment itself to generate heat, avoiding the use of electrical resistances in a temperature range up to -6ºC outside, depending on conditions.
With this system we are able to supply all the required heat capacity with a reduction in energy of up to 60% thanks to the efficiency of the refrigeration system with COP of 2.5.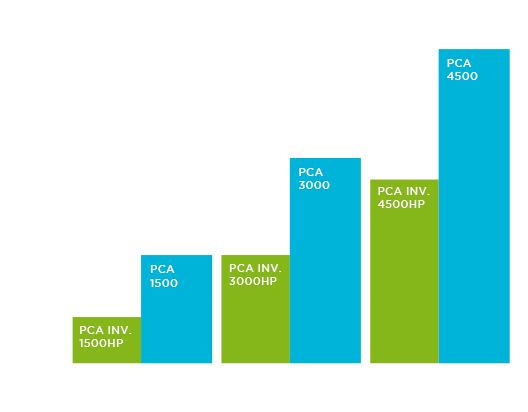 The electric power consumed has been calculated under PCA unit nominal heating conditions for each aircraft body type and under ambient conditions of 0ºC / 90% Hr.
Only heat generation elements consumption has been indicated in the graphic: electrical heaters vs. frigorific heat pump.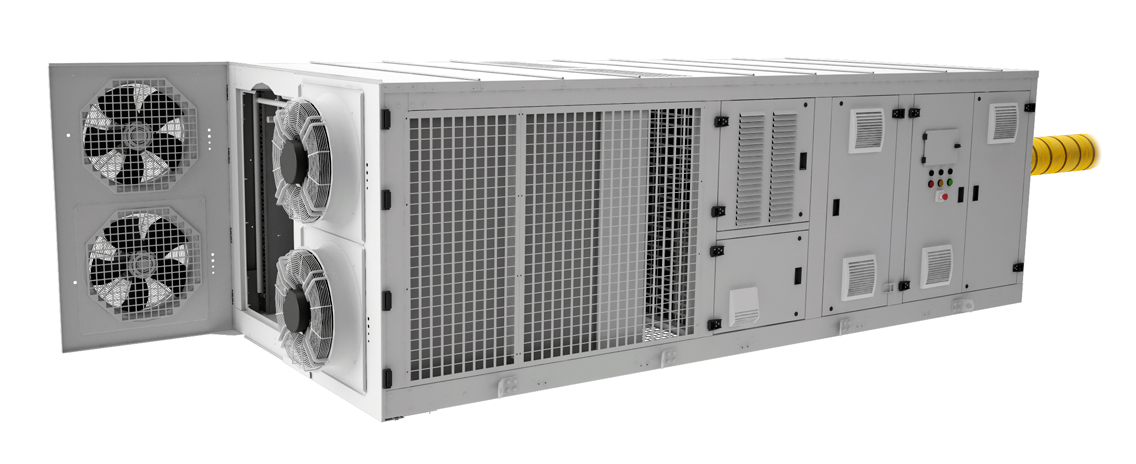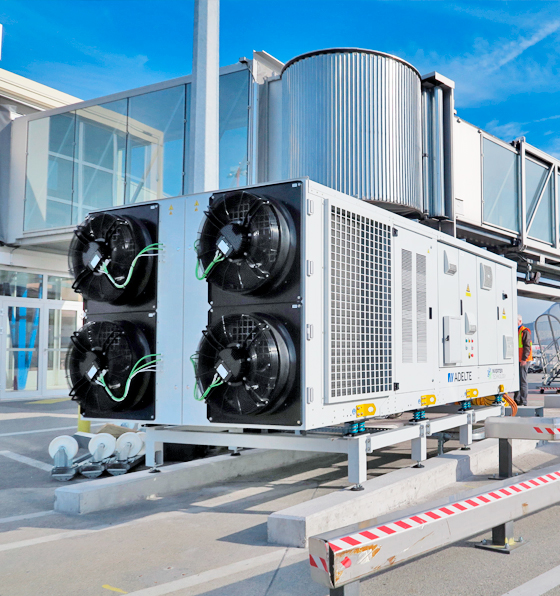 Axial EC FAN
The latest generation axial fans EC reduce the electrical consumption thanks to a stepless/continuous regulation.
Mode of operation: Continuous operation (S1)
Control input 0-10 VDC / PWM
Type of protection: IP 54 (acc. to EN 60529)
Insulation class: "B" ("F" applying to the main components as per EN)
Bearings: Maintenance-free ball bearings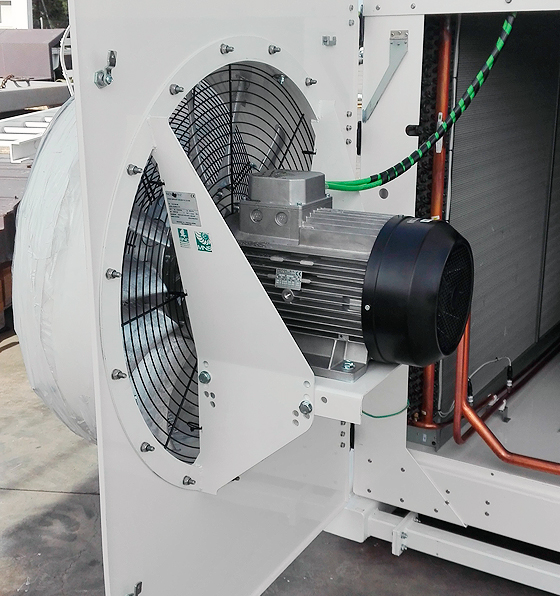 Mounted door
Swing door for full access to all components of the refrigeration circuit of the equipment. Wide access for rapid preventive maintenance and rapid replacement of components.
Water proof aluminum nozzle for noise reduction for extended life
Accesibility to frigorific components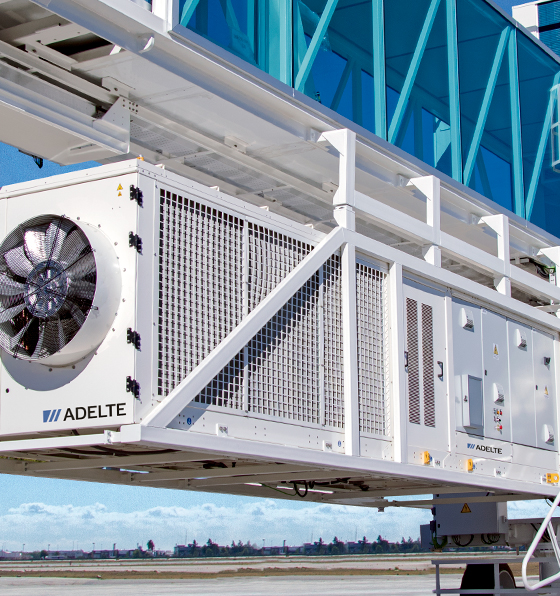 High durablity materials
ADELTE's PCA is designed to work under all environments around the world. The high quality of the structure and the panels assures lifespan to the equipment in exteriors, stand or bridge mounted.
Heat exchanger grill protector
Side metal panels with great thermal insulation.
Noise insulation for a better boarding experience
Quality coating of the steel structures and endurance for the life of the structure (20+ years)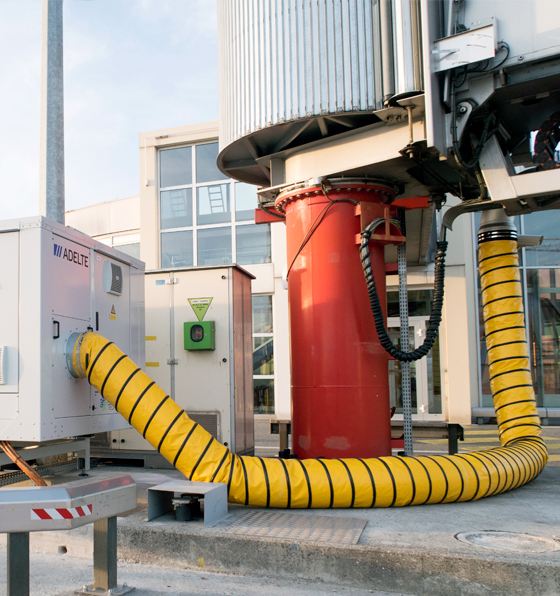 PCA Outlet Connection
The PCA equipment supplies the pre-conditioned air (-2ºC / 45ºC) through the outlet located on the front face of the equipment.
14" outlet diameter
Double outlet connection (optional)
High efficiency air conditioning ducting system
External stainless steel rigid tube (option)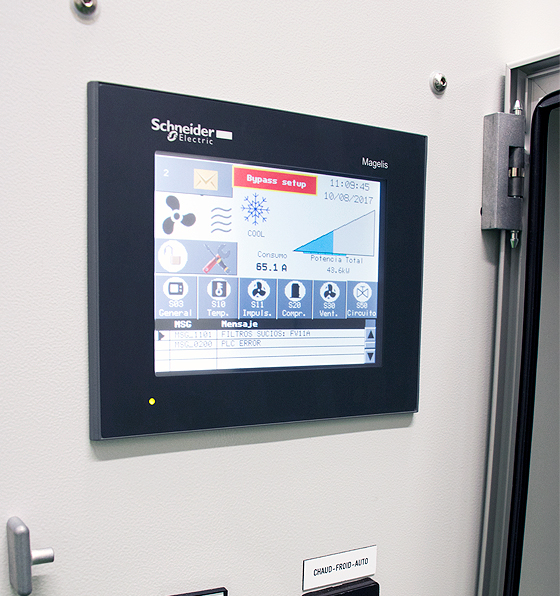 Control Pannel
Electrical control panel where the main control and communication elements are located (PLC, touch Screen, buttons, ...).
European regulation EN 60204
IP 65 box
Treatment for saline and corrosive climate
Forced ventilation
High quality electrical components
Narrow Bodies
ZEPHIR 1500
Maximum Air Flow:
110kg/min
Available Static Pressure:
6300Pa
Discharge Temperature:
-2ºC
ZEPHIR INV-1500HP
Cooling Capacity:
20-125kW
Maximum Air Flow:
110kg/min
Available Static Pressure:
6300Pa
Heat Pump Capacity:
19-82kW
Discharge Temperature:
-2ºC
Wide Bodies
ZEPHIR 3000
Maximum Air Flow:
150kg/min
Available Static Pressure:
8500Pa
Discharge Temperature:
-2ºC
ZEPHIR INV-3000HP
Cooling Capacity:
28-184kW
Maximum Air Flow:
150kg/min
Available Static Pressure:
8500Pa
Heat Pump Capacity:
26-110kW
Discharge Temperature:
-2ºC
WIDE BODIES & A380
ZEPHIR 4500
Maximum Air Flow:
210kg/min
Available Static Pressure:
10000Pa
Discharge Temperature:
-2ºC
ZEPHIR INV-4500HP
Cooling Capacity:
40-300kW
Maximum Air Flow:
210kg/min
Available Static Pressure:
10000Pa
Heat Pump Capacity:
22-160kW
Discharge Temperature:
-2ºC