Most common Airport Passenger Boarding Bridges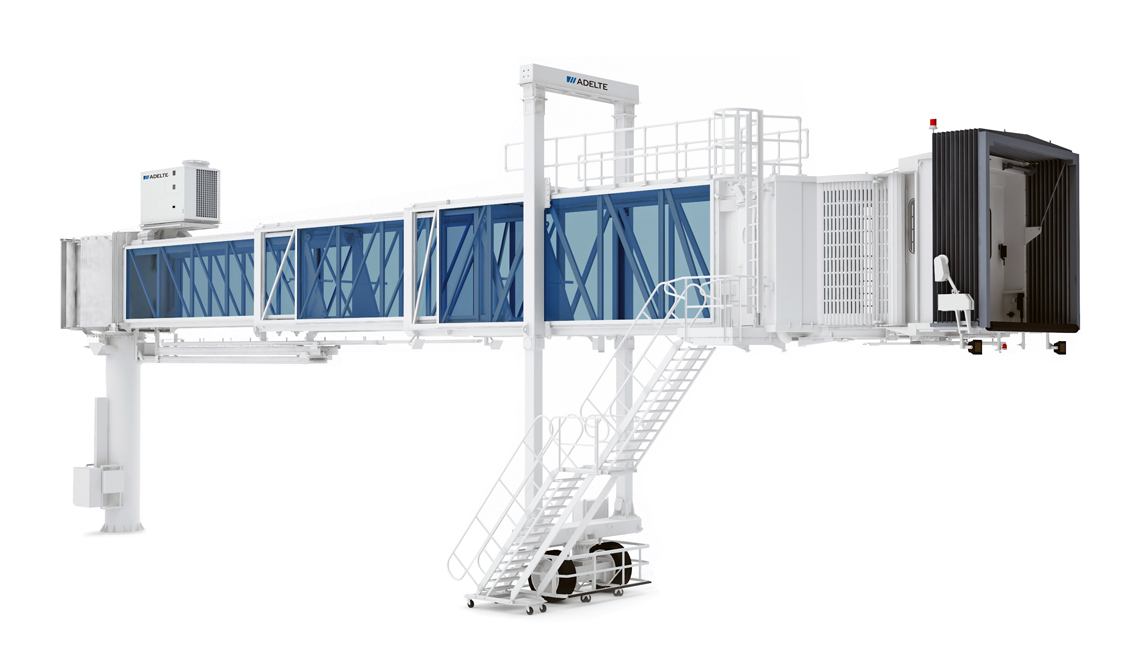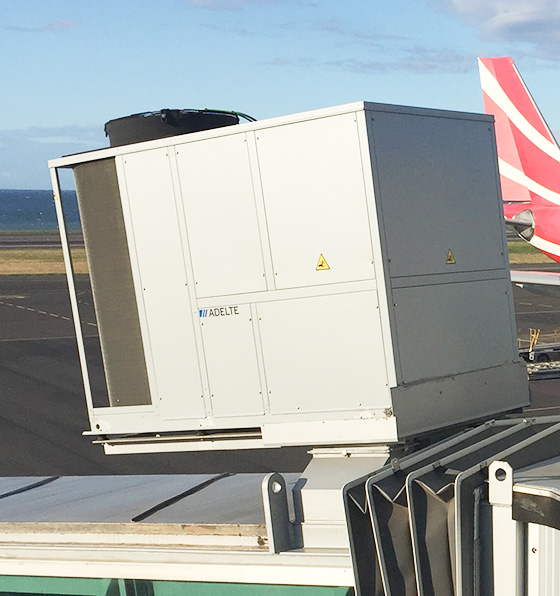 Rooftop
Designed to perfectly meet the thermal needs inside the PBB in all climate conditions. It is equipped with internal air ducting system to distribute the conditioned air throughout the PBB.
Cooling capacity of 30,5kW
R-410A
Specially designed for Passenger Boarding Bridges
Equipped with 2 impulsion outlets and 1 return inlet directly connected to the PBB
Energy Efficiency Ratio (EER) of 2,9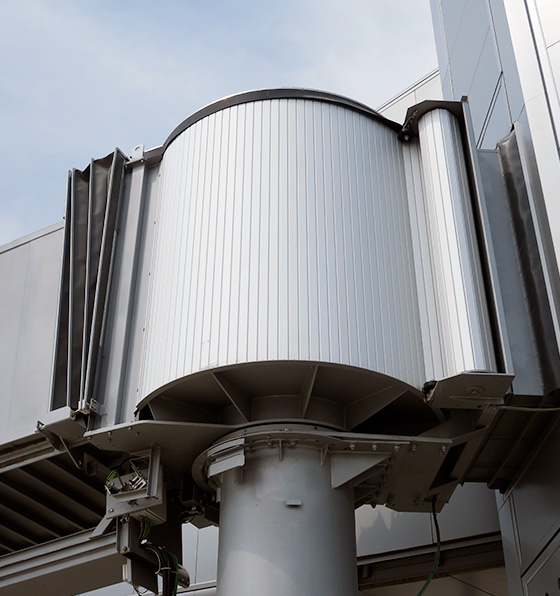 Rotunda
The roomy and bright inner space improves passenger comfort and flow. The specific design of the blinds, with prestressed springs and without the need for a roller shutter chain eliminates noise during rotation.
Water proof aluminum slats for noise reduction for extended life
Synchronized slat rotation system without chain/gear (maintenance free)
Heavy duty low friction slewing ring
Rotation up to ±90º
1 Rotation limit switch and 2 proximity sensors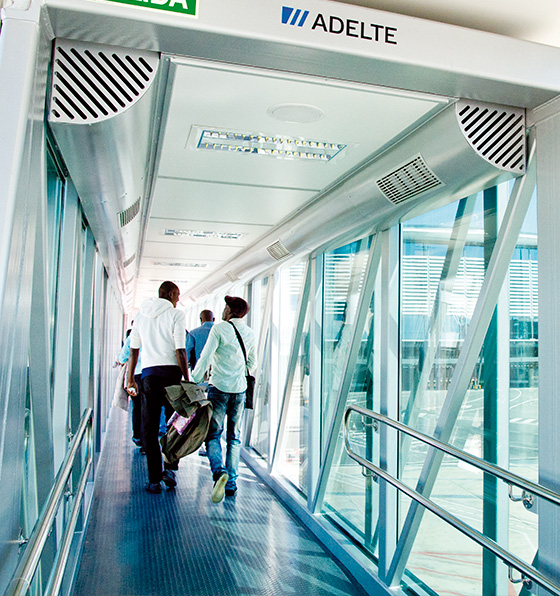 Telescopic Tunnels
The structure, made of high quality steel, has undergone a category C5-M paint process which is specifically developed for harsh environments.
High efficiency air conditioning ducting system (optional)
Side metal panels with great thermal insulation, optional with double glazed windows
Noise insulation for a better boarding experience
Anti slip flooring, extreme durable and easy to maintain PASS-PORT Gerflor (a wide variety of designs and colors available)
Quality coating of the steel structures with heavy duty three layer system 320µ d.f.t), guaranteeing five years touch- up free and endurance for the life of the structure (20+ years)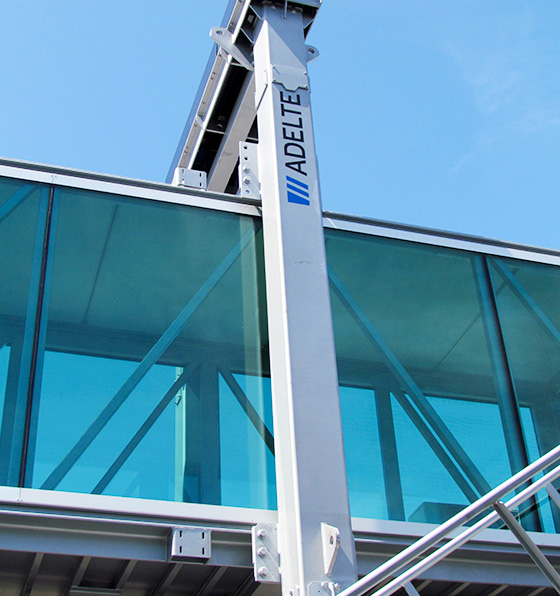 Elevation System
Electromechanical or hydraulic systems are available as standard. Both are equipped with a redundant safety system that ensures the alignment of the lifting columns at all times without the need for electrical detectors.
Elevation through two simple effect hydraulic cylinders or Synchronized electromechanical elevation with heavy duty bearing system (ACME)
Oil tank attached to the bogie allowing easy access for inspection and maintenance
Hydraulic circuit equipped with filters for virtually maintenance free life of the system or Electromechanical safety brakes mechanically activated without power supply
All standard components are global first class brand products like Siemens, Telemecanique, Vickers or Parker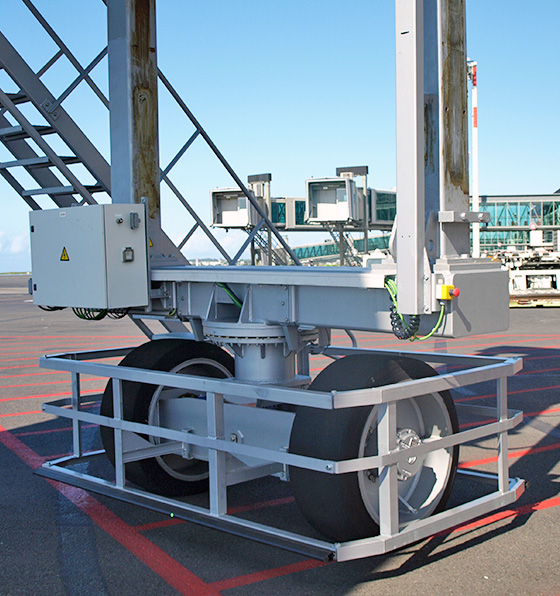 Traction System
This consists of a solid double wheel that is highly resistance to wear, independently controlled by a few variators through the PLC. The advanced design of the bogie allows instant access to any part of the traction system that requires maintenance.
Equipped with two heavy duty motors
Bogie rotation monitored by an incremental encoder
Anti shock system for operators and handling personnel safety and security
All standard components are global first class brand products like Hohner or Telemecanique
2 Proximity sensors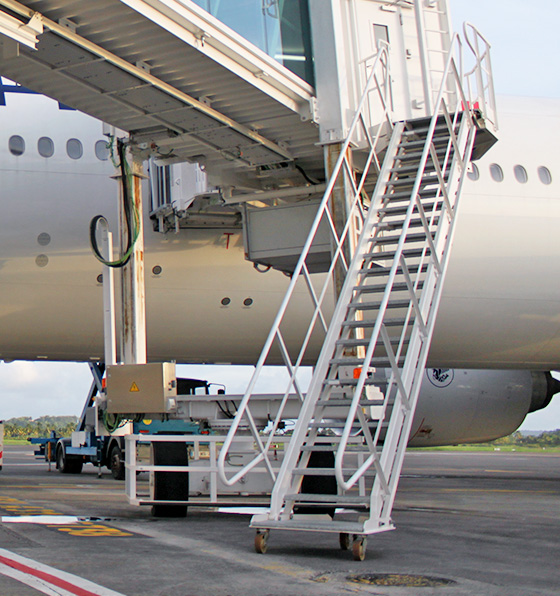 Service Stairs
Stairs with a robust design made from high-quality steel with slip-resistant, self-levelling steps to avoid any risk of the handling operators falling.
Light and robust design for an easy access to the cabin
Galvanized or painted steel for long lasting
Anti-slip steps and safety handrails installed at both sides
Strong heavy duty spinning wheels
Sun resistant weather proof cover (optional)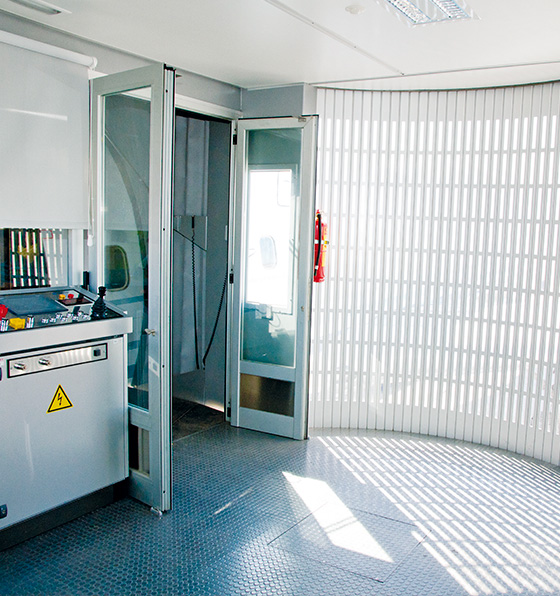 Cabin
The inside of the cabin is spacious and bright to improve the experience of the passengers and to facilitate the driving of the boarding bridge.
Water proof aluminum slats for noise reduction for extended life
Synchronized slat rotation system without chain/gear (maintenance free)
Cabin rotation +90º/-35º made by electric motor
Super soft bumper to avoid any damage to the aircraft fuselage
Nr. 3 Proximity Sensors positioned inside the bumper and Nr. 1 aircraft detection ultrasound sensor