Comprehensive range of Seaport Passenger Boarding Bridges (SPBBs) & Gangways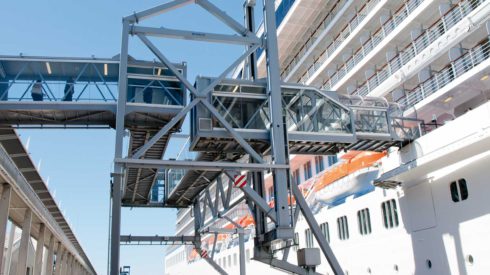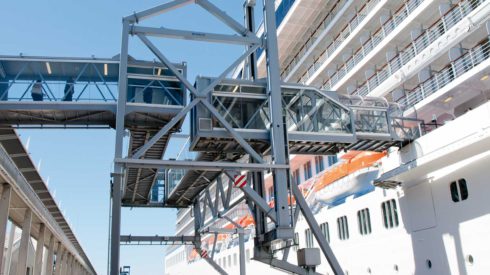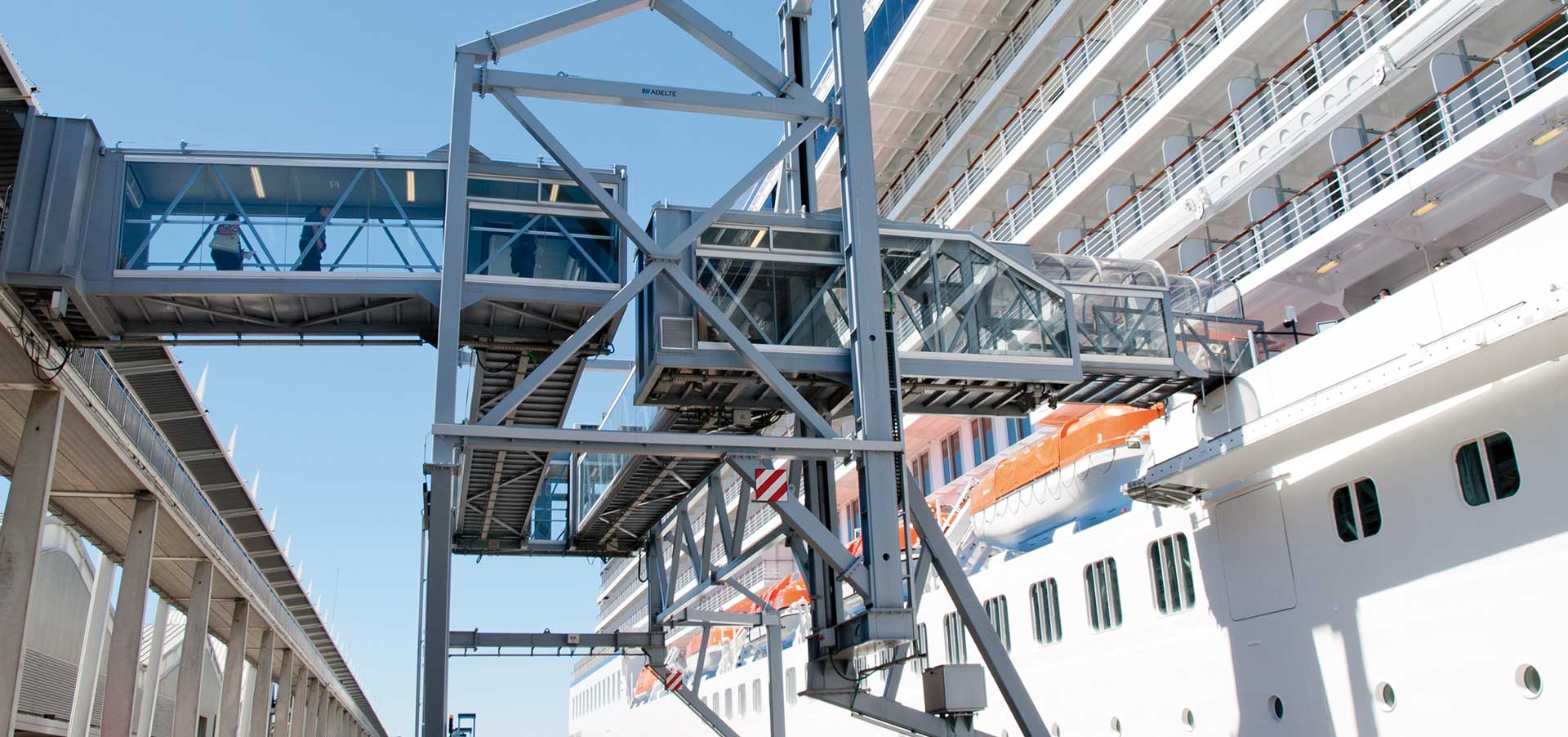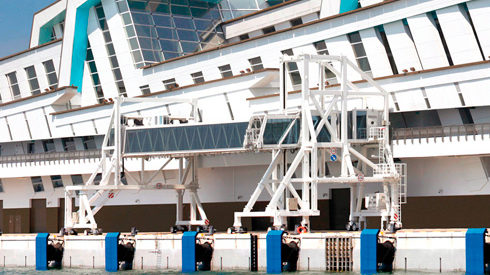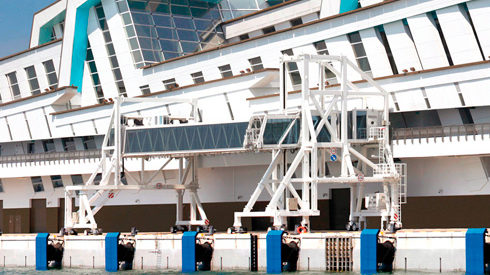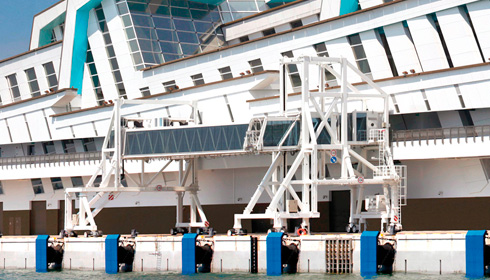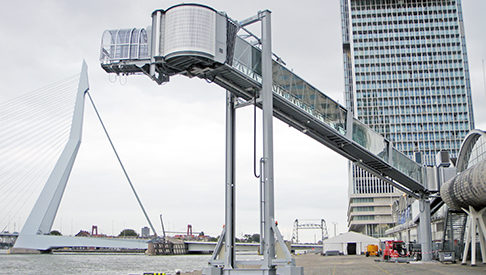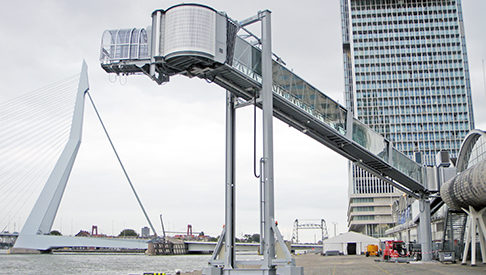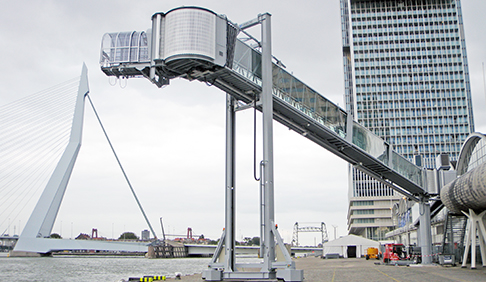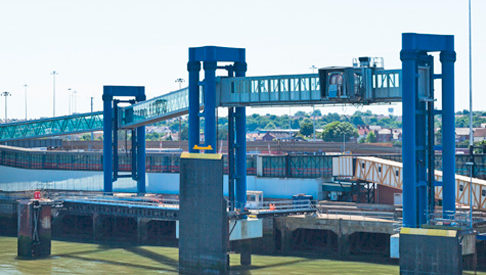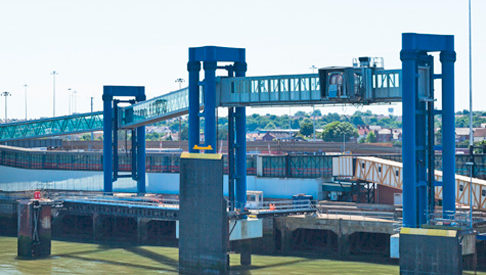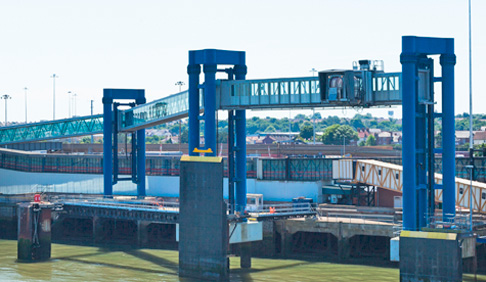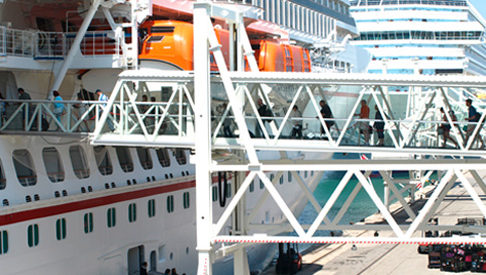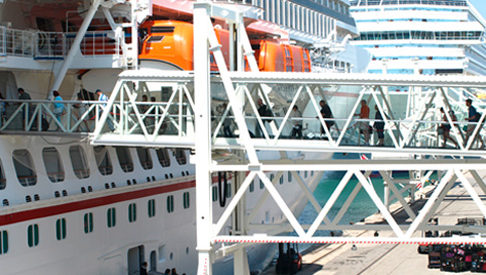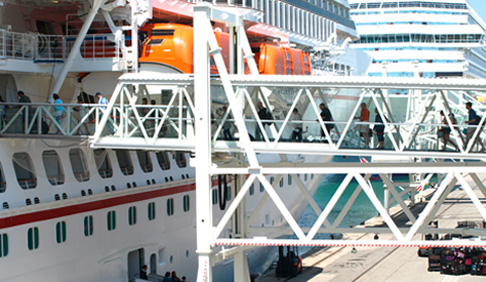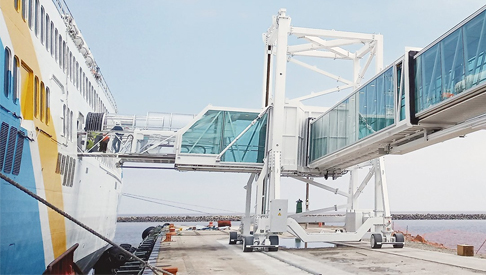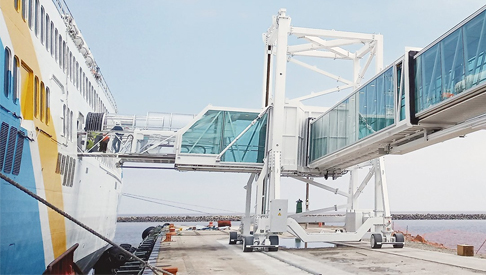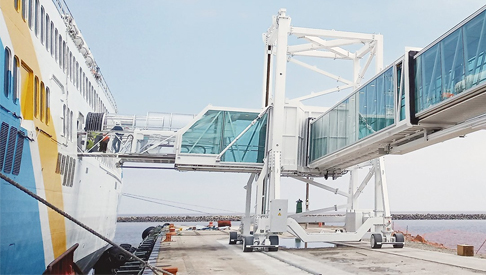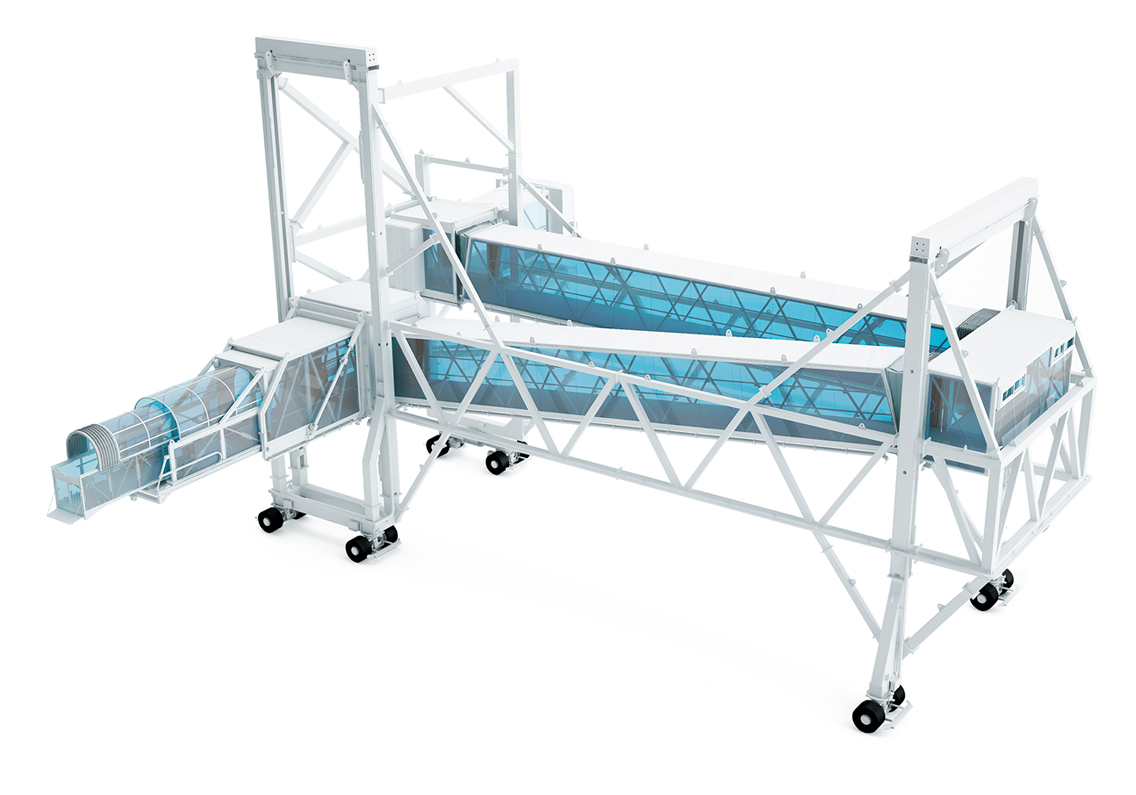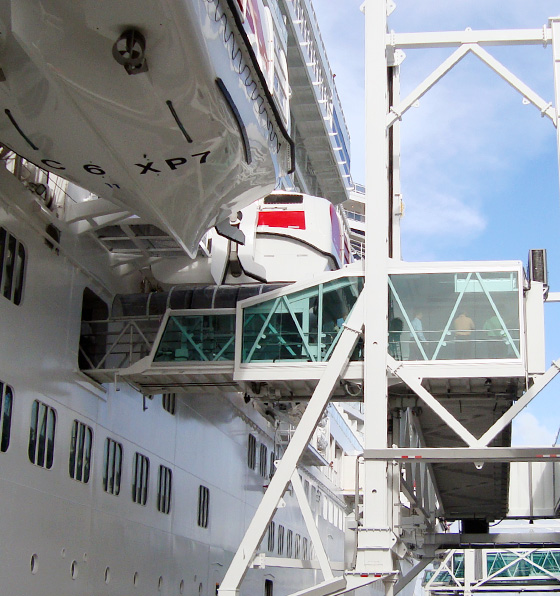 Docking Cabin
The inside of the cabin is spacious and bright to improve the experience of the passengers and to facilitate the driving of the boarding bridge.
Various possible designs, including specific designs to fit with new generation mega-cruise ships with external lifeboats
Retractable telescopic docking ramp for optimal flexibility
High precision sensors and fast response actuators that automatically follow the ship
Safety auto-undocking designed to automatically disengage from the vessel in case of emergency
Optimal all weather protection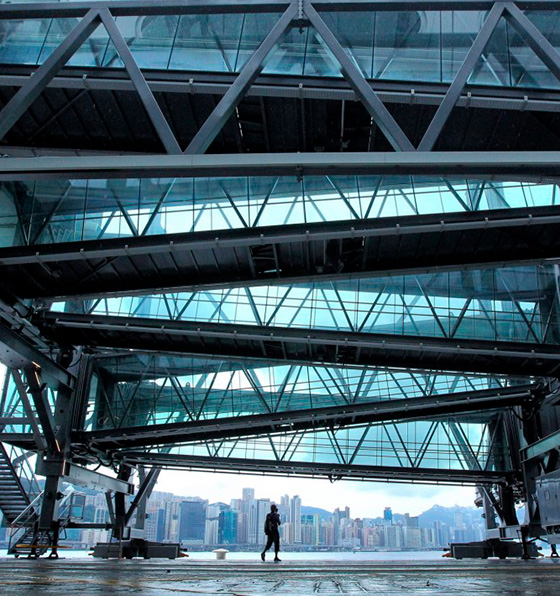 Tunnels
The structure, made from high quality steel, has undergone a category C5-M paint process specifically for the marine environment, the same as that used on oil rigs.
Tunnel dimensions and slopes designed to comply with national and international Accessibility Standards (EN, BS, ADA…)
Multiple walkway configurations for different SPBB models and terminal needs.
"Access for All" philosophy, including handrails, transition ramps and flat surfaces for the turning of wheelchairs.
Wide selection of quality finishes, including ceiling tiles, floor coverings, lateral enclosures and glazing systems.
Various HVAC systems and solutions, including ADELTE's own developed roof top systems.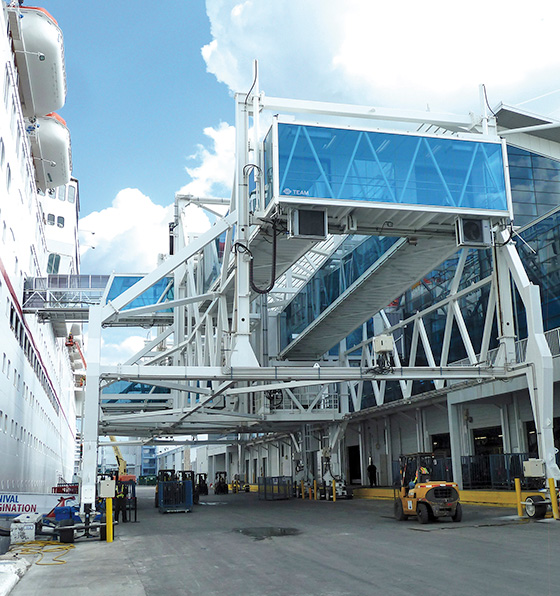 Structures
Structural compositions are optimized for a light and slender look in order to interference the least with the architecture of the building whilst ensuring durable and correct load distribution.
Steel structures for maximum performance, durability and reliability
100% self-supportive on the quay
Seismic, strong wind and fire-resistant design
Paint protection designed to guarantee high durability in marine environments (duration of more than 15 years in a C5 atmosphere, according to ISO 12944)
Aesthetic designs, visual integration, choice of colors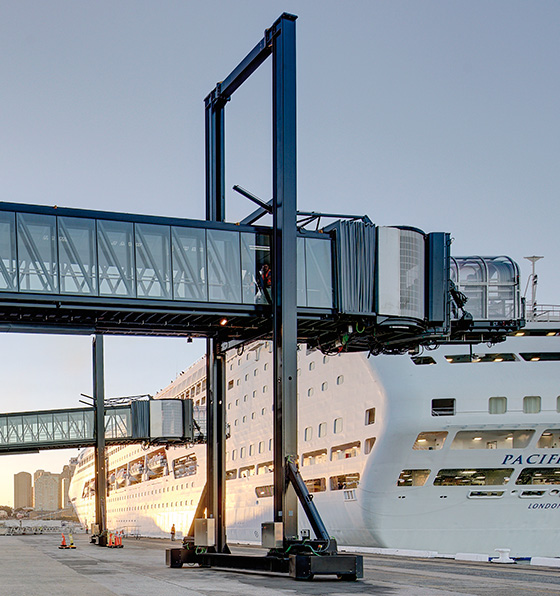 Elevation
Electromechanical or hydraulic systems are available as standard. Both are equipped with a redundant safety system that ensures the alignment of the lifting columns without the need for electrical detectors.
Water proof aluminum slats for noise reduction for extended life
Includes double safety brakes for automatically blocking the system in the event of power failure
Synchronization of hydraulic systems is ensured by means of sensors, valves and control programming
Redundant safety: a single column / cylinder is able to support the whole weight of the SPBB and raise the assembly at reduced speed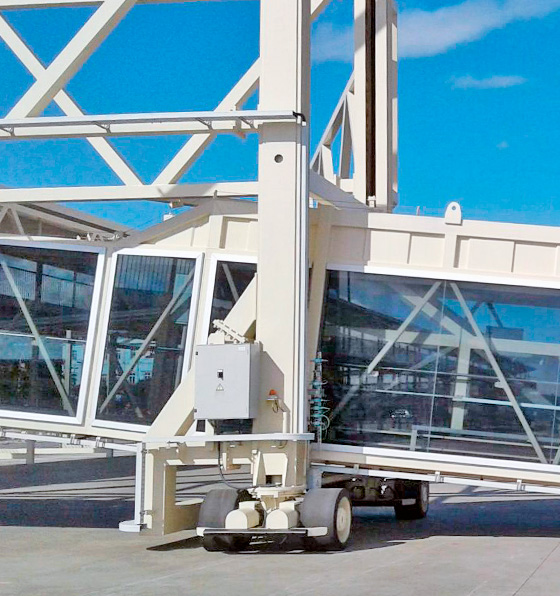 Translation
This consists of a solid simple or double wheel that is highly resistance to wear, independently controlled by a few variators through the PLC. The advanced design of the bogie allows instant access to any part of the traction system that requires maintenance.
Bogie sets with rails or solid rubber wheels
Includes anti-collision devices, safety brakes and sensor-based stop systems for maximum safety in translation
Smooth acceleration and deceleration curves
Guiding systems adapted to every port by means of different technologies (rails, sensors, GPS…)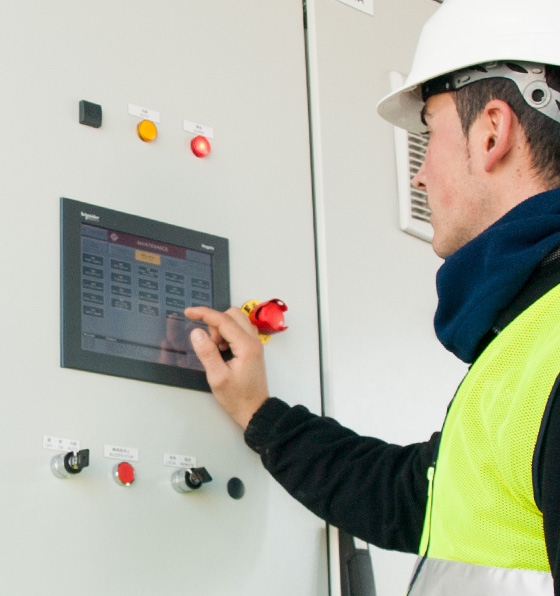 Electrical and Control Systems
The control system allows all elements of the SPBB to be operated in a safe, secure and easy manner.
The SPBB is designed to be operated by a single person
The SPBB will perform the movements automatically once docked without the need of any personel on board.
The PLC-based control system ensures that the status of every element of the SPBB is monitored and available at any moment
Redundant electrical and mechanical systems limit and control all SPBB movements
Touch-screen panel and remote controls, for a comfortable and safe operation
Safety auto-undocking, designed to automatically disengage from the vessel in case of emergency
Seaport Passenger Boarding Bridge specifications